Today, artificial technology is everywhere. We've talked a lot about AI creating tools and even AI builders, but what about AI video generators?
When you hear about AI video maker, you might feel a little confused. What kind of input do they need and what are the outcomes? In this post, we'll answer all these questions and provide you with a list of  popular free AI video generators so you can try the technique yourself. Now let's start it.

AI video maker or video generator mainly creates videos based on text as well as images, audio files and other sources. Most generators even offer a wide range of avatars (real person presenters) so you don't need to be in the video. This is the fastest and great for online video content generator who doesn't want to show the face.
Here are some of popular online AI video generating websites providing free services with some limitations. The score is my personal opinions based on free plan.
Pictory.ai – 4 star
Website:
Free Trial Plan : 
3 video projects , each of up to 10 minutes long
Watermark is at the end of video. Easy to cut off
no credit card required, and paid plans start at $19 per month.
Features:
Automatically create short, highly-sharable branded videos from your long form content
Text-to-video creation.
25 text-to-speech AI voices.
5,000 music tracks.
My test result shows the video is highly related to the texts you entered. Video generation time is a bit too long, but the results are good enough to post online. 
Demo:
Lumen5 – 3.5 star
Website:
Lumen5 is an AI powered video maker that helps you create engaging video content.
You can enter any type of text, such as a blog post, and Lumen will automatically find the perfect audio and video based on it.
Free Plan : 
Contains Lumen5 watermark at the end scene. Easy to cut it off. 
720P video resolution
Upgrade to other plans: https://lumen5.com/pricing/
In addition to the forever free plan, they have other plans starting at $19 per month. 
Features:
Unlimited videos per month.

Automatic subtitles.

Content library with millions of stock photos and videos.

Turn blogs to videos

Talking head videos
My test results: 720p is still ok to post online especially for short videos. Watermark can be easily removed at the end scene. You might need to spend some time to choose right template or images for your content. 
Demo:
Quickvid.ai – 3 star
Website:
QuickVid AI can make creating Short Videos easier and faster than before. 
Free Plan : 
720*1080P short video (Standard Definition)
Limit credits for you to generate videos (300 Credits for each new account- Each short video will take 80-120 credits. )
No ads or watermark for downloaded videos
Features:
AI driven
Automatically generate scripts
Cusomized for music
Pay for brands.
Demo:
Elai.io – 2.5 star
Website: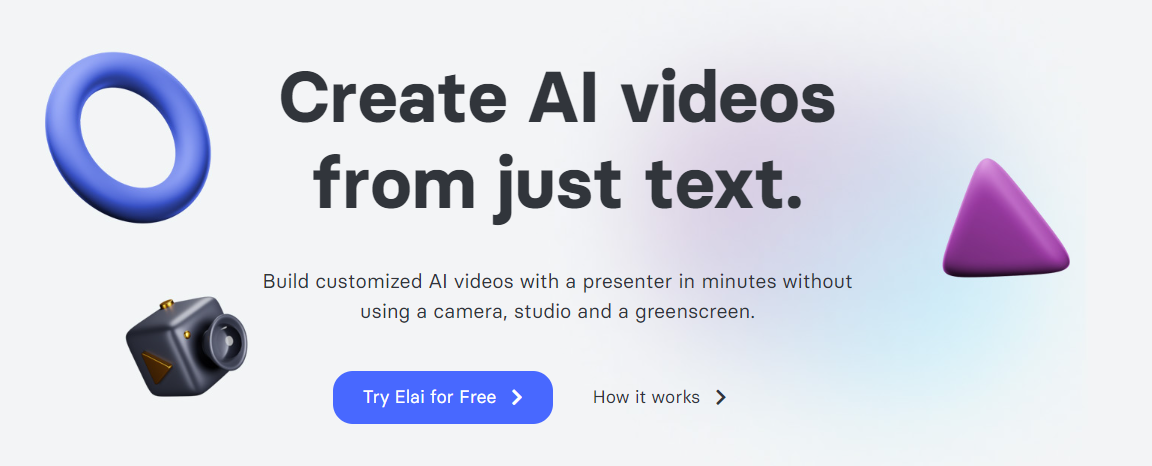 Free Plan : 
1 free minute / month. 
Watermark is at the bottom left . You can blur it out if you have a right template.
1 slide / video
No Credit Card
Elai.io offers a 14-day free trial and premium plans ranging from $29 per month to $99 per month.
Features:
1 minute video per month.
35 Avatars.
More than 65 languages.
More than 450 sounds.
My test result: 
It is not bad script result from ChatGPT and slide design based on template, but one slide / video completely limits the free trial usage. 
If you can put all your slides into one, it will be a good online video generator. 
Generating time is about 21 minutes for 58 seconds video
Demo:
Hourone AI – 2.5 Star
Website:
Free Plan : 
3 free exports per month.
Watermark is at the end of video. Easy to remove.
There is a forever free plan for the first hour! It also has premium plans starting at $30 per
Features:
Published videos up to 3 minutes.
Customize your avatar.
Unlimited access to stock media.
Supports more than 60 languages.
Turn any text into presenter-led video
Access to stock characters
Access to video templates (including 3D)
Upload your media or create one using generative AI
Access to voices and languages
Demo:
Steve.ai – 2 stars
Website:
Steve Awarded as No:1 Most Innovative AI Solution in 2022.
Free Plans:
You will get 3 free  720p downloads/month with watermark.
Watermark is hard to remove. 
Steve Outro will be added at the end of video. Easy to cut it off. 
Steve AI has a limited free plan and premium packages ranging from $15 per month to $60 per month.https://app.steve.ai/pricing
Features:
Text to speech.
3 video downloads per month.
Millions of free videos and images.
Upload your own audio tracks.
Demo:
HeyGen – 1.5 star
Website:
Free Plan : 
1 Minute / Month
Wartermark is hard to remove.
Premium options ranging from $30 per month to $225 per month. https://www.heygen.com/pricing
Features:
1-min Video Credits / Month
100+ Human Avatars
40+ languages
300+ voices
300+ templates
TalkingPhoto Upload
FaceSwap
PowerPoint/PPT Import
Up to 5-min per video
Video Bio
Video Share
Web Widget Export
Synthesia – 1 Star
Website:
Free Trial Plan : 
Very limited free trial plan. No more than 50 characters to create a free AI video.
Simple AI videos for free, but you'll need a business email to receive the results. Plans start at $30 per month.
Features:
Over 60 different avatars.
Customize your avatar.
More than 50 pre-designed templates and AI voice.
Free media library.

RawShorts – 0.5 Star
Website:
https://www.rawshorts.com/
Raw Shorts generates a video draft from your video script. It is designed for people who need to explain a certain topic or demonstrate their products.
Free Plan : 
5 Non-Premium Exports Total
480p Resolution
Standard Video Format (16:9)
Offer a free trial and two plans: Essential for $25 per month and Business for $45 per month. https://www.rawshorts.com/v2/pricing
Features:
Access the media library.
HTML5 generator.
Invideo.io – 0.5 Star
Website:
Free Plan : 
Has watermark, 
Paid plan prices start at $15 per month.
Features:
Over 5,000 video templates.
Automatic text to speech.
40 minutes of video time.
More than 30,000 standard media.
My Test Results: The images generated based on texts are not that relevant. Not worth to try free plan
Others – 0 Star
Websites:
https://www.veed.io/login
https://clipchamp.com/en/
https://www.flexclip.com/ – provides a free AI video maker to generate an artificial intelligence video in an instant.
https://fliki.ai/
https://www.kapwing.com/
Demo Playlists:
https://www.youtube.com/playlist?list=PLKgqHvSPJvY_5XMpBL8ea19YxMQnBX3i0
PlayGround AI  Create any image from your imagination.

咱们直接来个实例,Prompt 填写,比如撰写一个 A handsome japanese man with clear eyes, sharp eyebrows。

不包含的提示词填写什么呢?官方 Youtube 频道一则视频给出了不需要的关键词,可以填写在这里,"text, signature, title, heading, watermark, ugly, duplicate, morbid, mutilated, out of frame, extra fingers, mutated hands, poorly drawn hands, poorly drawn face, mutation, deformed, blurry, bad anatomy, bad proportions, extra limbs, cloned face, disfigured, out of frame, ugly, extra limbs, gross proportions, malformed limbs, missing arms, missing legs, extra arms, extra legs, mutated hands, fused fingers, too many fingers, long neck"

遵循提示词等级选择 10,质量和细节选择系统推荐等级 50,生成 4 张图,点击生成后,生成图片的效果如下:

D-ID AI – 免费用户可以生成总时长 5 分钟的视频时长。
智影数字人 – 免费拥有 3 天使用权限,生成视频时限为 10 分钟,