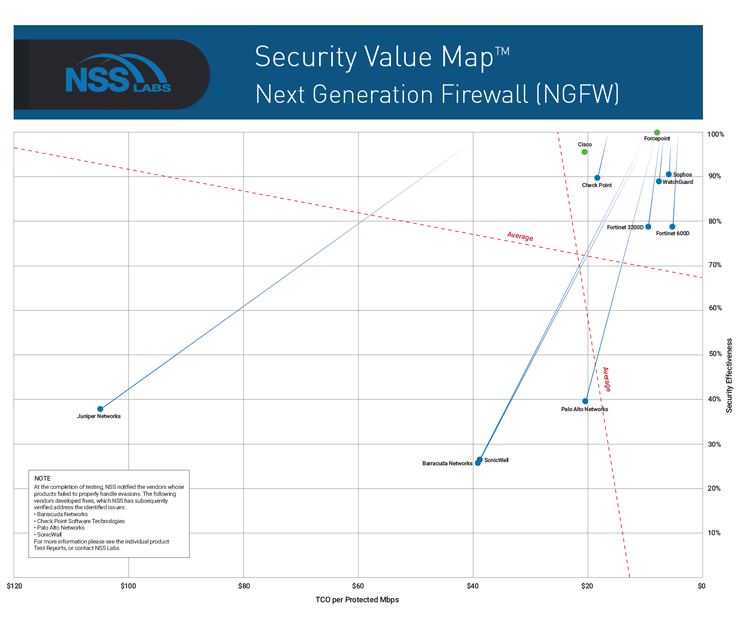 It is good to compare with Gartner Magic Quadrant for Enterprise Network Firewall (2017, 2016, 2015, 2014, 2013, 2011, 2010) or Gartner Magic Quadrant for UTM (2017, 2016, 2015, 2014, 2013, 2012, 2010,…)
End users are finding that NGFWs are no longer as limiting in their performance or capability trade-offs as they once were. NSS Labs discovered that many enterprises are choosing NGFW over traditional firewalls for a variety of reasons without feeling that they are compromising on features or performance. Some NGFW solutions scale to tens of gigabits which satisfies the needs of all but the most demanding enterprise WAN connections.
NSS Labs regularly released NGFW Security Value Map™, Comparative Analysis Reports, and Product Analysis Reports.  These results help guide security professionals in the enterprise to make informed decisions when evaluating the many offerings in the industry.
NSS Labs designed the test to focus on the following four areas:
    Security effectiveness
    Performance
    Stability
    Total Cost of Ownership (TCO)
2017
June 06, 2017 (GLOBE NEWSWIRE) — NSS Labs, Inc., the global leader in operationalizing cybersecurity, announced the results of its Next Generation Firewall (NGFW) Group Test.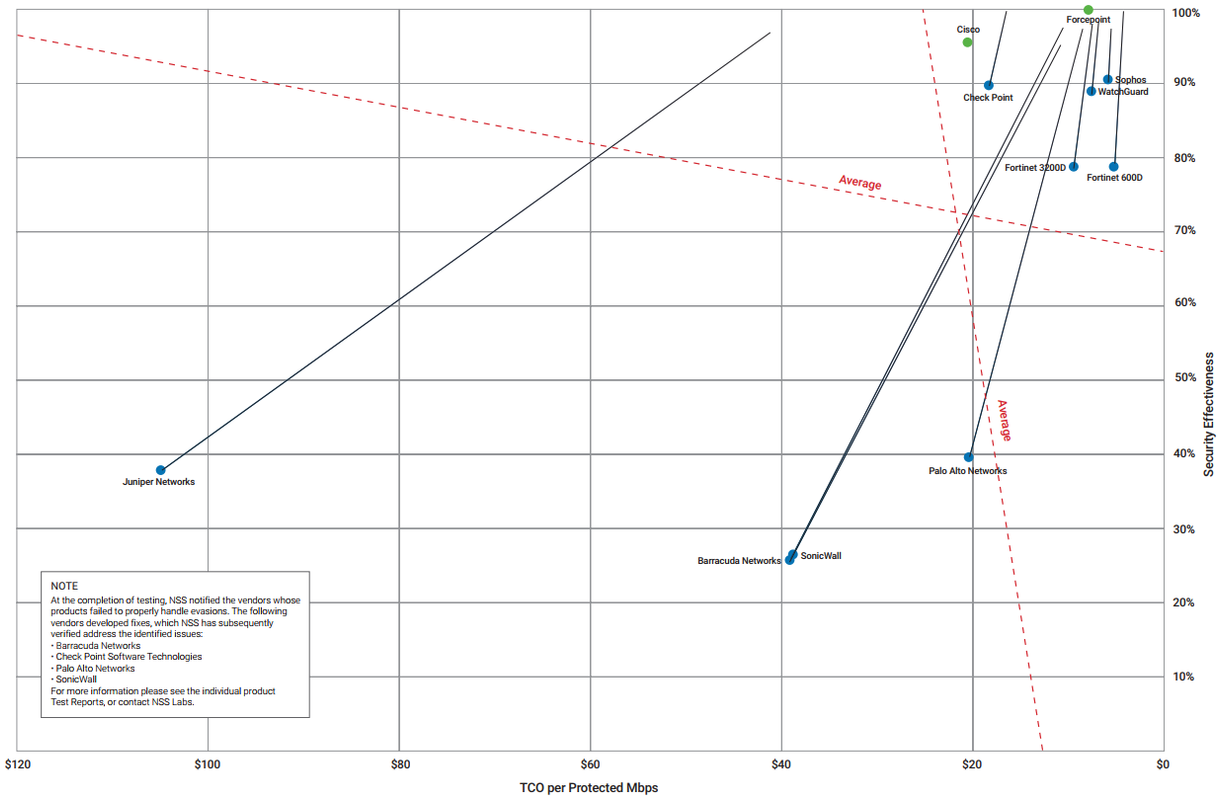 Overall Security Effectiveness ranged from 25.8% to 99.9%, with seven of the 11 tested products achieving a rating greater than 78.5%
TCO per Protected Mbps ranged from US$5 to US$105, with most tested products costing less than US$22 per protected Mbps.
The average Security Effectiveness rating was 67.3%; seven of the tested products received an above-average Security Effectiveness rating, and four of the tested products received a below-average Security Effectiveness rating.
The average TCO per Protected Mbps was US$25.2; eight of the tested products were rated as having above- average value, and three of the tested products were rated as having below-average value.
Barracuda NextGen Firewall F600.E20 v7.0.2
Check Point Software Technologies 15600 Next Generation Threat Prevention (NGTP) Appliance R77.20
Cisco Firepower 4110 v6.1.0.1
Forcepoint NGFW 3301 Appliance v6.1.2
Fortinet FortiGate 3200D FortiOS v5.4.4 GA Build 1117
Fortinet FortiGate 600D FortiOS v5.4.4 GA Build 1117
Juniper Networks SRX 4200 v15.1X49-D75.5
Palo Alto Networks PA-5250 PAN-OS 8.0.0
SonicWall NSA 6600 SonicOS 6.2
Sophos XG-750 Firewall v16.01
WatchGuard Firebox M4600 v11.10.7

2016
Check Point® Software Technologies Ltd. (NASDAQ: CHKP) today announced the company received its eleventh 'Recommended' rating from NSS Labs. Check Point's latest results earned its fifth 'Recommended' rating in the NSS Labs Next Generation Firewall Test, delivering top results with the highest block rate (99.8%) from the NSS Labs Exploit Library and tied for the highest security effectiveness score (99.6%).
Hillstone Networks Next-Generation Firewall's high marks include lowest for Total Cost of Ownership (TCO) per Protected Mbps, blocking 99.6% of exploits from the NSS exploit library and blocking 98.32% of live exploits over a 2-month period from December 1, 2015 – January 31, 2016.
NSS 2016 NGFW Group Test SVM
2014
NSS Labs said the Palo Alto PA-3020 Appliance passed stability and reliability tests, and enforced firewall policies. It also correctly enforced complex outbound and inbound policies, the firm said. The appliance fell short in detecting evasion measures often used by attackers to bypass firewalls. Using RPC and IP Fragmentation attacks, NSS Labs was able to conduct a bypass. The appliance also took a performance hit, earning a 719-Mbps rating while the vendor claimed 1-Gbps performance.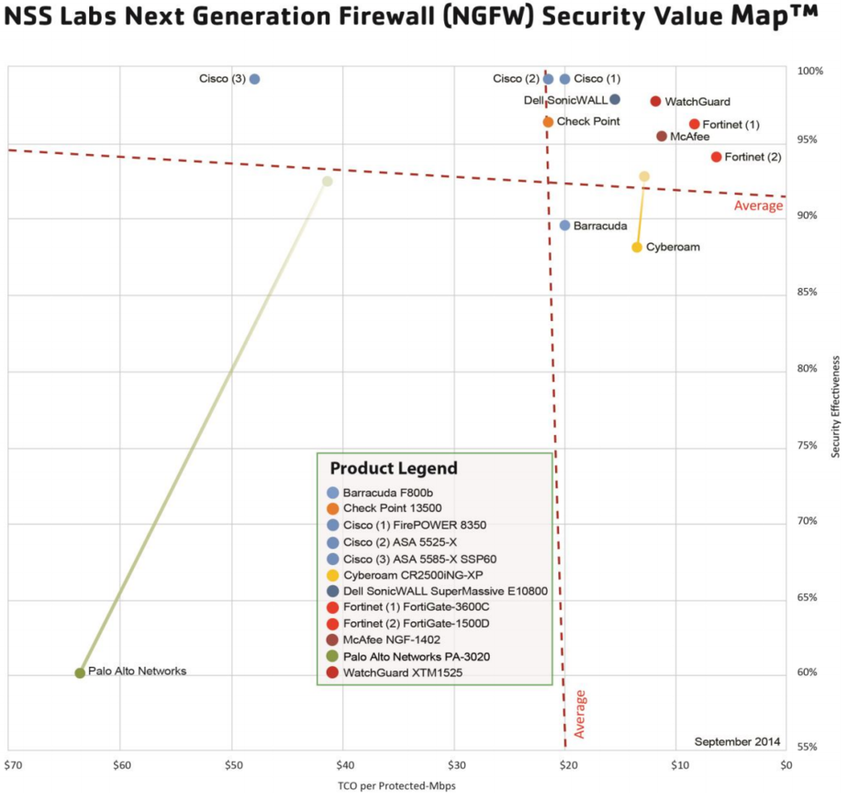 NSS 2014 NGFW Group Test SVM
2013
WatchGuard's XTM 2050 appliance got poor marks and earned a caution designation after it fell well below competitors.
NSS 2013 NGFW Group Test SVM
2012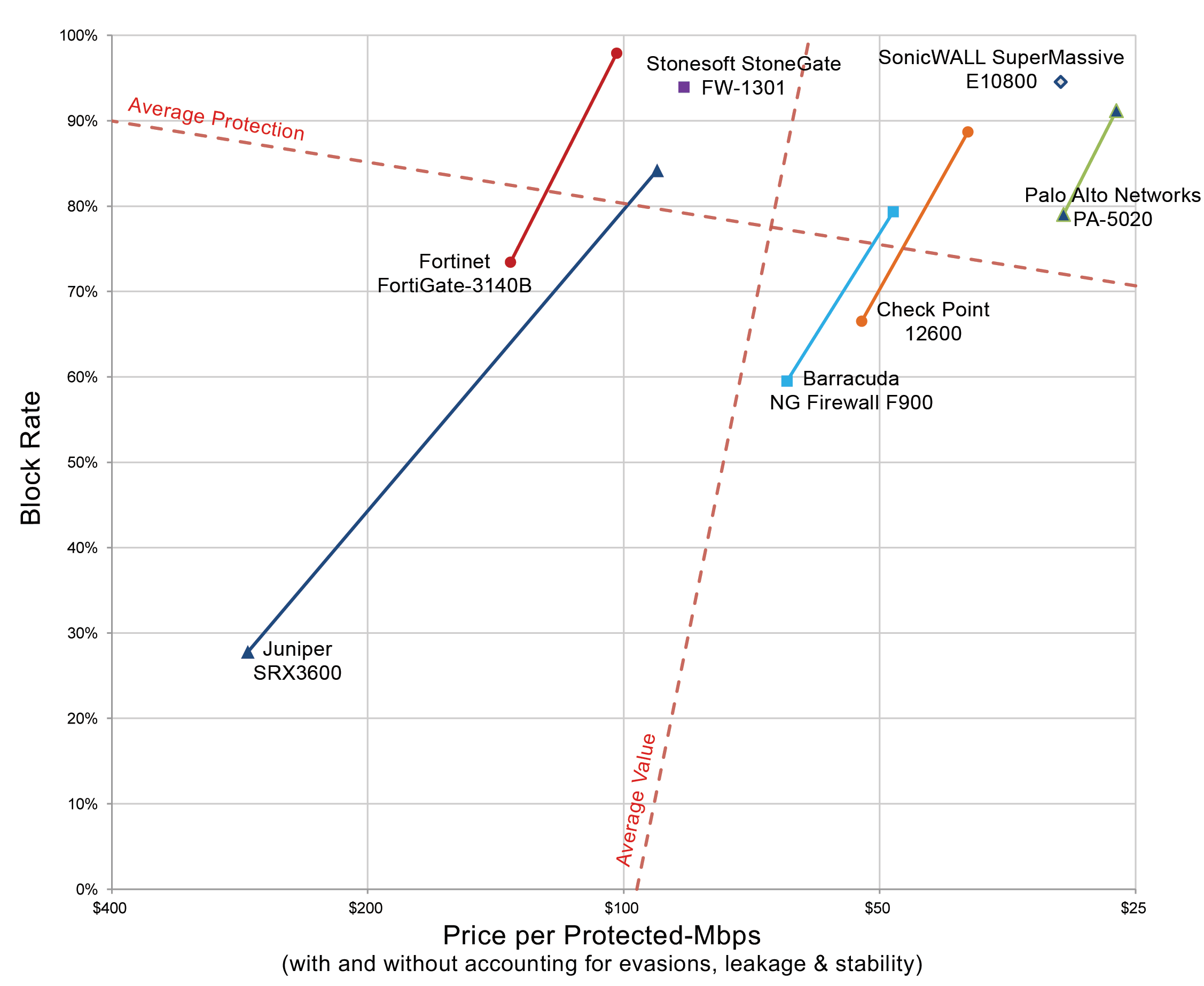 NSS 2012 NGFW Group Test SVM
2011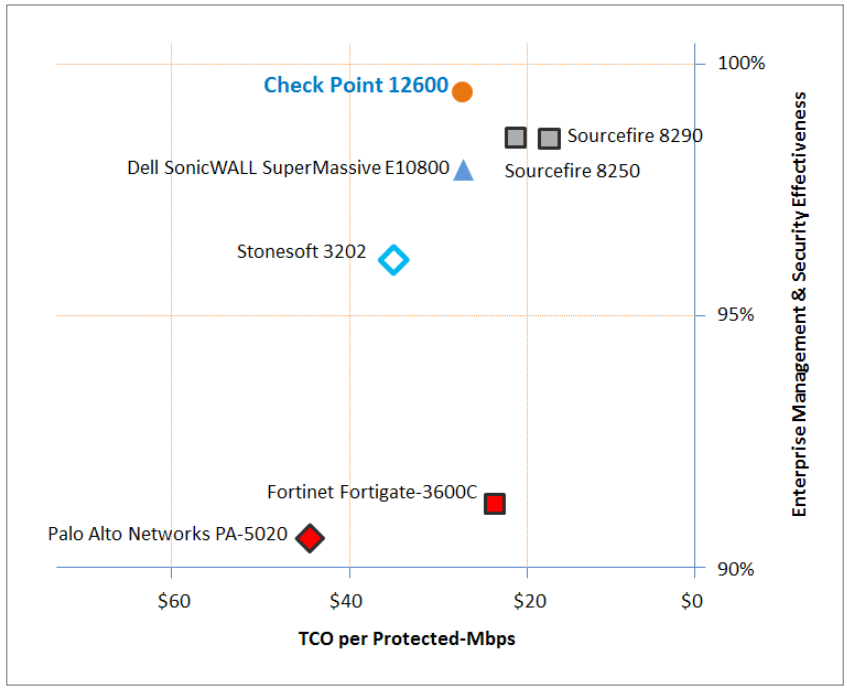 NSS 2011 NGFW Group Test SVM
Reference: